Join the Big Green Egg Cook-Off Competition at Expo!
29 October 2019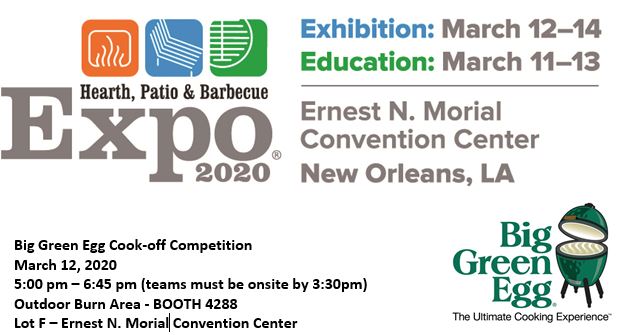 •Max of six retail company teams to compete from different regions in US
•All retailer teams are to bring their ingredients needed for the judge's plates, which HPBA will reimburse up to $400 onsite. This can include any sauces, marinades, spices, etc.
•Retailer teams are not allowed to bring any precooked or marinated food. All food must be prepared on the Big Green Eggs. All prep must happen during competition.
•Each retailer team can consist of a total of two representatives from their company to participate and compete.
•Each team will have two grills to use that will be preheated. Proper time will be allotted for training on usage of the eggs.
•Each team will have up to an hour to prepare 4 plates (one for each of the three judges and a beauty plate for photos) along with some bite size samples to disperse to the attendees. Out of the budget provided, $200 should go towards ingredients for judge's plates and $200 towards samples.
•Each team will draw a number to determine the timing that their plates, for the judges, must be turned in and when there start time takes place. Each team will have a total of an hour to prepare the food. First team starts at 5:00pm.
•Plates will be turned in by teams in 5-minute intervals based on their number (team drawing #1 to turn in their plate first and team with #6 to turn in their plate last) starting at 6:00 pm. The last chef will turn their plates in to judges at 6:30 pm.
•Announcement of winner and presentation of award will take place at 6:35 pm.
•The cook-off ends approx. around 6:45 pm.
•Teams can provide their own utensils, but a supply of equipment will be provided for usage.
•A cleaning sink area will be in place if needed.
•Teams will be judged based on overall appearance, taste, and tenderness.
•Teams must have company branding/identification on their uniform attire.
•An Emcee will be spending time with the teams during the cook-off.
•Teams must be onsite at 3:30 pm for proper training of equipment and to get set.
•One award will be presented based on judge's votes.
•Winning Team receives two Big Green Eggs along with an award and major bragging rights!
Need more information? Contact Karen@nehpba.org or Kelly at HPBA vandermark@hpba.org