NEHPBA warns that proposed bans on natural gas and propane would have a "profound impact" on life in the Northeast
24 March 2022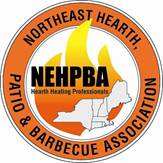 March 24, 2022
FOR IMMEDIATE RELEASE
NEHPBA warns that proposed bans on natural gas and propane would have a "profound impact" on life in the Northeast
Northeast Hearth, Patio and Barbecue Association: 'Consumer choices are at risk' Appliances, heating systems, fireplace usage, even how we grill on July 4th will be disrupted by gas fuel bans.
Sudbury, MA – The Northeast Hearth, Patio and Barbecue Association (NEHPBA) today warned that a gathering movement to ban natural gas and propane fuel in communities around the Northeast is placing fundamental consumer choices at serious risk - and threatens to disrupt household habits and traditions while imposing costly new rules on building construction.
"What does a ban on natural gas and propane in new housing development really mean? It means if you plan to build a new home that house will have: no gas stoves, no gas water heaters, no gas heating systems, no gas pool or spa heaters, no gas barbecues, no gas fireplaces, and no gas fire pits." said Joel Etter, President of NEHPBA and Senior Wholesale Account Manager for Hearth & Home Technologies. "If you look deeper at these proposals around the Northeast, you immediately appreciate the profound impact this policy can have on your day-to-day life. These policies will affect how you heat your home, the appliances you use, what goes in your fireplace, and how you grill on your patio and deck over the Memorial Day weekend, Fourth of July and during other precious family times."
The Northeast Hearth, Patio & Barbecue Association is a trade association representing more than 250 individual member retail and related companies throughout the Northeast. In just the states of New York and Massachusetts, NEHPBA has more than 140 members supporting over 900 families - the vast majority of which are independent "mom and pop" small businesses that are significant community contributors in the markets they serve across the region.
Proposed bans are also targeting new commercial and institutional buildings: most would prohibit new commercial buildings from using gas-fired boilers and halt restaurants from using gas stoves. Additionally: new health clubs, schools, and athletic facilities would not be able to heat commercial pools and spas with natural gas. Such restrictions would dramatically increase the cost of operations for all these types of facilities.
NEHPBA recognizes the changing landscape of the energy and fossil fuel industry. Its members are committed to working with government officials and regulators at all levels to increase access to more sustainable and climate-centric fuel sources throughout our homes and businesses. But a sensible long-term strategy to achieve responsible energy diversity must be the objective, as opposed to costly and damaging restrictions and bans that do little on their own to help reach our climate goals.
"Reducing dependence on natural gas will require an increase in electricity production because there will be a corresponding increase in demand for electricity. Unless that incremental electricity comes from specific sources, instead of reducing emissions gas bans can effectively just shift emissions from the building to electric generation sector," said NEHPBA Executive Director Karen Arpino. "These changes would have a major impact on the most vulnerable among us. And unfortunately, this might be only the beginning. The next step will be for calls to retrofit existing homes and buildings to electricity at a potential cost of tens of thousands of dollars per household."
More and more cities and towns around New England are considering proposed bans on natural gas or propane in new construction. The attorney general of Massachusetts has halted at least one local proposal because of doubts about its legality. Gas prohibition advocates, however, are also exploring ways to use state laws to accomplish a more broad-based ban.
"It's likely that without expensive upgrades, the current electric grid may not be prepared to handle substantial electricity demand growth, which is exactly what would result from bans on gas and propane," said Etter, the NEHPBA president. "Most importantly, these propane and gas bans take away consumer and business options and competitive pricing choices."
About the Northeast Hearth, Patio & Barbecue Association
Since 1985, the Northeast Hearth, Patio & Barbecue Association (NEHPBA) has represented the interests of the hearth industry in the Northeast. NEHPBA was originally incorporated in January 1985 as the Northeast Solid Fuel Alliance (NESFA) in recognition of the unique demands of business in the Northeast. In June of 1992, NESFA members voted to become the first affiliated member of the national Hearth Products Association (HPA) and became the Northeast Hearth Products Association (NEHPA). In 2002, NEHPA became the Northeast Hearth, Patio & Barbecue Association (NEHPBA) in conjunction with the merger of the national HPA with the Barbecue Industry Association to become the Hearth, Patio & Barbecue Association (HPBA), thus recognizing the diversification of the modern industry. The NEHPBA name has remained since 2002.