Operation BBQ Relief Offers Support in Nashville
5 March 2020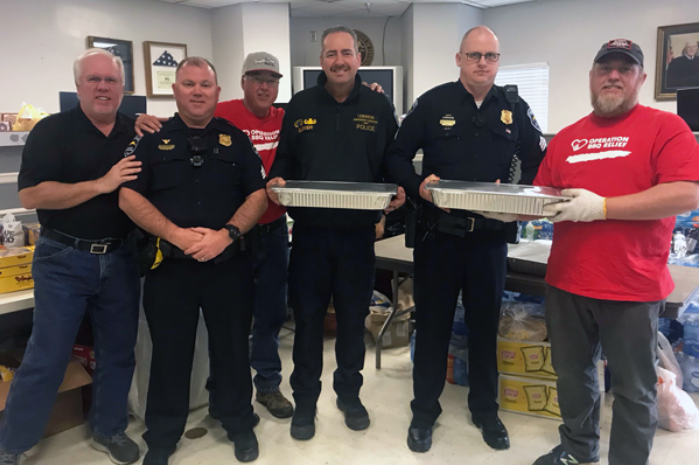 Nonprofit responds to 66th disaster since 2011
Relief is making its way to Nashville, Tennessee, in the form of food following deadly tornadoes that struck the state early Tuesday.
Team members from Midwest-based Operation BBQ Relief arrived in Nashville on Wednesday to feed thousands of people affected by the storm.
"As bad as they look, it's nowhere close to really as bad as it is," Stan Hays, Operation BBQ Relief co-founder, said.
Looking at footage of the aftermath, Hays said he knew volunteers were needed.
"As long as this tornado was on the ground and the number of communities that it affected, the more we started to hear, the more we knew there was going to be a need," Hays said. "We just didn't know how much."
More than 20 people have died as a result of the tornadoes, which spanned four counties.
Volunteers set up shop at Nissan Stadium and began serving a community that Hays told 41 Action News looked all too familiar. Responding to the devastation in Nashville marked the organization's 66th disaster since 2011.
The 2011 tornado that destroyed most of Joplin is what prompted a group of barbecue enthusiasts and competitors turned their hobby into a helpful effort, according to Hays.
"What was going to be three to four days and a few thousand meals turned into 11 days and 120,000 meals from a parking lot," Hays said.
Operation BBQ Relief drove several smokers to Nashville that can cook enough pork to make 2,000 pulled pork sandwiches at one time. Hays said it helps in their efforts to serve more than 20,000 meals a day.
"It also does a little bit more than just, you know, nurses the body, it nurses the soul as well as we're doing that," Hays said.
Crews plan to be in the Nashville area for seven days, Hays said, but will monitor the situation on the ground and adjust as needed.
Source: kshb.com/image from Hearth & Home