11 January 2023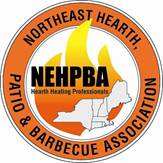 January 11, 2023
FOR IMMEDIATE RELEASE
NEHPBA says record demand for firewood and wood-burning stoves could mean shortages in the dead of Northeast winter.
The Northeast Hearth, Patio and Barbecue Association says its members are reporting huge demand for new wood-burning stoves, hearth products and service appointments – all pointing to a worsening of firewood shortages that have impacted other regions.
Sudbury, MA – The Northeast Hearth, Patio and Barbecue Association (NEHPBA) today warned that firewood shortages which have impacted other regions of the U.S. and the world may create serious challenges for households in the Northeast that rely on wood-burning systems as a supplementary heating source. Compounding the problem is a reduced supply of wood-burning stoves because of the forced retirement of unsold equipment that does not meet EPA standards.
Germany, Switzerland and Poland are experiencing some of the most severe firewood shortages and related disruptions. Waiting periods in Germany are as long as one year to purchase a wood-burning stove, and the availability of wood has plummeted since the onset of Russia's invasion of Ukraine. Protected forests in Switzerland are being poached for firewood, according to forestry officials, and the government in Poland is urging people to stockpile wood because there is also a shortage of coal.
Meanwhile, the skyrocketing cost of natural gas, home heating oil and electric heat is driving more and households to increase the amount of wood they burn in places like Saratoga Springs and Albany, NY and areas of Maine and Vermont. And changes in EPA regulations, which forced all wood-burning stoves manufactured prior to May 2020 to be removed from the market, have contributed to a major shortage of available stoves with lower production numbers on new wood-burning equipment.
"There are global events contributing to this potential crisis, and there are outcomes of these new product standards that are making things much worse," said Karen Arpino, Executive Director of the Northeast Hearth Patio & Barbecue Association. "We took tens of thousands of new stoves that had already been manufactured off the market. The new emissions standards are the correct move going forward for all newly manufactured stoves. But there was a finite amount of pre-existing equipment that could have been sold through. That is a major factor in this current shortage."
Heavy demand for firewood is coupling with labor shortages to create a one-two punch making wood fuel scarcer in the Northeast. Not enough wood can be cut, split and prepared for sale and delivery to keep up with demand. A nationwide arctic blast just before Christmas 2022 is bringing the shortages of both stove equipment and wood fuel into sharp focus.
The Northeast Hearth, Patio & Barbecue Association is a trade association representing more than 300 individual member retail and related companies throughout the Northeast. In just the states of New York and Massachusetts, NEHPBA has more than 140 members supporting over 800 families - the vast majority of which are independent "mom and pop" small businesses that are significant community contributors in the markets they serve across the region.
NEHPBA recognizes the changing landscape of the energy and fossil fuel industry. Its members are committed to working with government officials and regulators at all levels to increase access to more sustainable and climate-centric fuel sources throughout our homes and businesses. But a sensible long-term strategy to achieve responsible energy diversity must be the objective, as opposed to costly and damaging restrictions and bans that do little on their own to help reach our climate goals.
The U.S. Department of Energy and NEHPBA recommend a series of steps that can help maximize the heating efficiency and safety of wood stoves and fireplaces.
Clean your stove or fireplace regularly.
Clear a path for smoke coming out of the chimney.
Check the flue damper and make sure the seal around it is tight.
Insulate your chimney with a chimney liner.
Prevent lost heat by closing your flue damper when not in use. But make a note or other REMINDER to reopen it before making another fire.
Consider an upgrade to your fireplace. Tempered glass doors and a heat-air exchange system will improve performance when it comes to warming your home.
Have your chimney inspected by a professional. NEHPBA is the best source of referrals for qualified chimney, stove equipment and hearth service professionals in the Northeast.
About the Northeast Hearth, Patio & Barbecue Association
The Northeast Hearth, Patio & Barbecue Association (NEHPBA) has been representing the interests of the hearth industry in the Northeast since 1985. We are the first and largest regional affiliate of the Hearth, Patio & Barbecue Association (HPBA) – the national trade association representing the industry's legislative, regulatory policy and business interests in Washington, DC.
Our mission is to promote all aspects of the hearth, patio and barbecue industries, to educate consumers on the benefits, proper use and maintenance of all hearth systems and products, and to communicate effectively with legislators and regulators while advocating for the interests of our members in our region's state governments. NEHPBA is the collective voice of our industry in the Northeast on all government affairs matters that impact our members.
Our membership is made up of the Northeast's top professionals and companies from the hearth industry: manufacturers, distributors, retailers, installers, service providers, and associated members.
---